Hello, Everyone.
This is the first post in the year of 2012. I want to wish you all the best and may Alloh SWT bless you in the future days.
Here is a quotation I love from
People Who Inspire Us
which I think would be a good spirit for us on starting our new days in 2012 :
Inspire yourself and others will be inspired. Motivate yourself and others will be motivated. Develop yourself and others will start to develop themselves.
Be an example first and then the world changes around you.
(- Author Unknown)
Today, I want to share a great news on Muslimah Fashion and some style tips I found at the end of 2011, and several new modest clothing lines for women.
A great news, especially for Indonesia, came from Paris, France.
As you have read from my previous post
here
about
The International Fair of The Muslim World 2011 in Le Bourget Exhibition Center, Paris, on December 2011
, thirteen top muslimah fashion designers from Indonesia held an exhibition/fashion show to showcase their designs and collection in that event.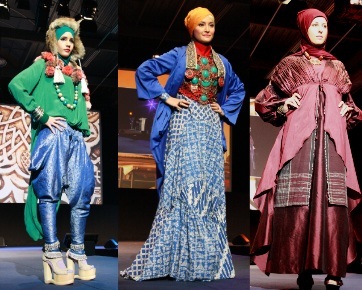 And... the great news is... the fashion designs from Indonesian designers become THE BEST and THE MOST FAVORITE at this International Fair in Paris, France!!
Indonesia also get an honour as the honourable country,
L'Indonesie Pays D'Honneur
(
negara kehormatan
). This means that Indonesia can be the world's hub of Muslim Fashion.
Yeeyy... I love to hear this and I am glad for you, Indonesia!
Next International Fair of the Muslim World InshaAllah will be held on November 2, 3 and 4, 2012, in Le Bourget - Paris. So, keep an eye out!
Here is the complete article in Bahasa Indonesia from Wolipop.com:
Busana Muslim Indonesia jadi Terfavorit di Paris
As for
Style Tips weekly round up
at the end of year 2011 are from 'HijabTrendz', 'Style n Dubai' and Jae of 'NoMoreMomJeans', one of my favorite fashion bloggers.
Style Tips Round up:
An information about new design of neck-extension that cover up your low-cut tops stylishly came from
HijabTrendz
.
Hate wearing shirts with low necklines? This is a great solution that has some extra flair:
The Low Cut Solution for Hijab
.
By Style n Dubai:
Fall 2012 Color Trends
How to wear floral and print
By NoMoreMomJeans:
Reader Question: Brown and Black
New Clothing Lines for Muslim Women:
Nadine Style
(made in the USA), is a new online business designing long, beautiful and elegant blouses that need no ironing. Just wash, dry and wear. You can check them out at www.nadinestyle.com.
Turquoise Print tunic
Aquaini Modest Swimwear
:
A two-pieces swimwear that comes with the attached hood to cover hair in comfort and style. Also completed with a buttoned string to keep the top-piece attach with the bottom-piece while in water.
Aquaini modest swimwear
Check also
Aquaini's page on facebook.
Modest Sea
- Alternative Swimwear, is an exclusive modest swimwear that can be designed according to your desire. The swimwear collection is made with
AcquaZero
fabric
. According to their site, AcquaZero is fast drying and highly durable with UV and chlorine resistance, high breathability and superior moisture management, so that the swimwear remains light and comfortable when wet or dry.
This is a swimwear design I like from
Modest Sea's site
:
SALE:
SHUKR
, Winter Sale up to 69 % OFF.
Amirah Fashions
, New Year's Sale.
Islamic Gems
, New Year's Sale, 20.12 % OFF sitewide, start Dec. 26, 2011 until Jan. 1, 2012 (
Ohh.. today is the last day. I'm sorry for my late on sharing this..
)
At last, hope you enjoy all the fashion links and style tips round up I shared on the first day in 2012..
Happy new days!